My podcast, GluckRadio, has an exciting future for 2013. As many of you know, I started GluckRadio as a labor of love in May of 2012. I had recently hired a top quality radio producer Becky Gadget to join radio professional Devin Exambo. The two of them formed the core of my production team.
After a punchy start with Hattie Retroage (a 76 year old cougar of Howard Stern fame), we rolled along, and by June, with a top-of-the-line sound engineer John Alexander Hamilton, and a new studio with great microphones, GluckRadio as you know it formed.
It's now January, and we've gathered thousands of listeners, featured some of the most interesting guests in radio, and even had a little controversy here and there. I'm proud to announce that starting this January, producers from WABC Radio have approached our producers with an interest in featuring our podcast on their website. We said yes! So, there you have it. Our show will be featured right up alongside the titans of talk radio: Rush Limbaugh, Sean Hannity, Geraldo Rivera, and Don Imus. Ratings analysts predict that GluckRadio's listenership will increase by over 565% within the first 3 months.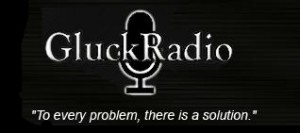 We have some very exciting guests coming up including former SNL members, futurists, anti-aging scientist Aubrey de Grey, and some surprises. We hope you'll tune in, download some episodes, share it with friends and family in the car, and call us with any suggestions on how we can make our show better.