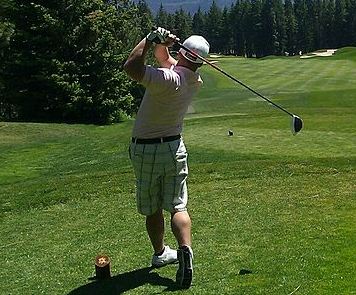 The power of the mind is an amazing thing. The power of a golfer's mind is an even more amazing thing. Think of the feat: you have to hit a tiny golf ball hundreds and hundreds of feet into a tiny hole in the ground you can't even see.
Your body and skill can only take you so far in a game like that. That's why your mind needs to be a well-oiled machine to serve your game; just in the same way your torso, arms, and legs need to be primed for the game. Unfortunately, your mind can't lift weights or stretch. One of the greatest pieces of exercise equipment for the mind in general – and specifically, the golfer's mind – is hypnosis.
I've dealt with numerous PGA golfers (withholding names out of respect for their privacy) and their first sessions are all strikingly similar. They all sit down in my office with a seeming disbelief in the power of hypnosis.
They're respectful, eager to improve, and open-minded, but there's still a part of them that believes their body is the be-all-end-all. After all, it's an understandable outlook if you've spent your whole life perfecting your swing, and not your thinking pattern.
I spend the first session with all my golfers getting their statistics, understanding their past problems, and laying out a specific hypnotic treatment to get them where they specifically want to be. Every time my golf patients leave their first session, they are enthusiastic about improving their mental game with hypnosis.
I Can Help You Improve Your Golf Game with Hypnosis
If you come to me wanting to improve your game I will do very specific things to help you…
I will give you the number one ingredient for superior golfing: concentration,
I will also give you a mental ability to put aside all feelings, emotions, and unproductive thoughts when the swing happens,
I will enhance your natural reflexes and eliminate your perception of pain and soreness,
I will give you more confidence by both giving you a sense of routine and giving your game the kind of attention no one else has ever given it before.
I always want to let everyone know that you don't have to be a professional golfer to come to me. I get a lot of businessmen or country club members who want to look better among their peers.
Whether you feel that you might or might not be a fit for Gluck Solutions Golf Hypnosis, give me a call at (212) 599-3195. Folks, let's get that swing to work as well as golf hypnosis does.