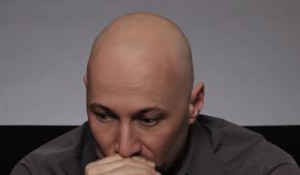 It was a warm Los Angeles evening when 26 year old actress, Lea Michele, was enjoying her summer break from her grueling Glee work schedule, having a girls night in with her closest of confidants.  After years of pounding the pavement on Broadway, it seemed like years of hard work and sacrifice were finally panning out for the young actress; she was the lead on an Emmy award winning show, adored by fans, or 'Gleeks', across the country, and revered as one of the most talented performers to date, her powerful pipes ranking her with the likes of Celine Dion or Barbara Streisand.
Things also seemed to finally be balancing out in her personal life as well. After years of floundering in the dating pool, she finally found a soul mate in the man that had been standing in front of her the whole time, Glee co-star, Corey Monteith. On the surface, Lea Michele was the embodiment of the American Dream- she was a positive role model that women, young and old, aspired to be. But no one's life is perfect, and nothing is ever as it seems.
Though Corey and Lea appeared to be a perfect fit, complimenting each other in all the right ways, Corey had his own personal demons, specifically a history of struggling with drug and alcohol addiction. Despite this diagnosis, Corey was really focused on making proactive steps to remain clean, even entering treatment for a brief stint earlier that summer, and crediting his beloved Lea for inspiring him to be a better man. Much like their television alter ego's, Rachel and Finn, the two were looking foreword to building a life together. The couple had even made plans to move in together, following his return from a trip to his native Canada, even leaving his car parked in her driveway for the duration of the trip. Unfortunately, Corey would never return from Canada.
On Saturday, July 13th, 2013 at 10pm, Lea Michele received the phone call that no one ever wants to receive; Corey had been found dead that morning of an apparent drug overdose, alone in his Toronto hotel room. Devastated, Lea spent the rest of what was supposed to be a fun girl's night, completely inconsolable, until 3am. Corey's death was unexpected for a number of reasons; for one thing Corey was also only 31 years old, barely in the prime of his life, but perhaps the most alarming revelation was the fact that he was even using again. Lea, as well as the rest of the world, was under the impression that the young actor was completely clean, following his June stay in rehab.  Regardless of the cause, what is a person to do upon the realization that the love of their life is suddenly gone forever? How do you move on?
Nothing is more tragic then losing someone close to you, especially when you don't see it coming, but expecting the unexpected is just part of life's journey. Death is part of life, however, this reality does not make it any easier to accept or embrace.  It doesn't matter who you are or where you come from, tragedy can unexpectedly creep into anyone's lives, what really matter's is how you choose to handle it.
Though Lea remained in seclusion for weeks, she didn't take long to re-emerge and return back to work on the Glee set. She also led a heartwarming tribute to Corey, at the 2013 Teen Choice Awards, only a month after the young actor was found dead.  Yes- Lea is very brave young woman, but she was only able to healthily cope with this grief by seeking professional help.
It's desperate times such as these, that having a Life Coach is incredibly beneficial. It is my job to help you constructively work through any major life changes, while simultaneously guiding you to a place of emotional harmony and happiness.
I will help you confront and ultimately overcome all anxiety and fear, as well as develop a plan of attack to help you regain a positive outlook on life again. Though grief is a natural process, it does not have to last forever, and with proper Life Coaching, it won't.  So end your suffering today, and give my office a call at  (212) 599-3195.