Death is such an inevitable part a life. We shouldn't be shocked when it comes for us,  yet we are. The unfortunate truth is, everyone will one day lose someone, or something they love. Coping with the loss of a loved one isn't easy, but it is necessary.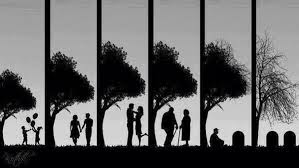 Not everyone will take solace in knowing that their loved one is finally out of pain or that they are no longer emotionally suffering. But some will. Those who do will still grieve and mourn the deceased, but they will also be comforted by what they believe comes after death. There is resilience in having a system of faith.
No matter your belief, grief is a common season that people deal with. As mentioned in the last blog post, there is no right or wrong way to mourn. You might experience denial, anger, confusion, sadness, and a lack of enthusiasm. That's okay. Given the nature of the vital role your loved one played in your life, their passing will greatly effect you. Give yourself time to get re-adjusted to your life.
Feeling like you're on an emotional rollercoaster is completely normal. One day you might feel okay and the next day you'll be devastated all over again. This will fade over time. If it doesn't, you might be suffering from complicated grief.
Mayoclinic.org defines complicated grief as such: For some people, feelings of loss are debilitating and don't improve even after time passes. This is known as complicated grief, sometimes called persistent complex bereavement disorder. In complicated grief, painful emotions are so long lasting and severe that you have trouble accepting the loss and resuming your own life.
For a list of symptoms, click here.
If you believe you are suffering from complicated grief or you're just having a hard time dealing with your loss, speaking with a life coach can be just what you need. Together we will sort through your emotions, redirect your thinking, and get your life back on track. You will never really get over losing someone you love, but with help, you can address your loss from a healthy perspective.