People see children as gifts. They believe that children teach parents to be selfless, compassionate, and above all, patient. There are mothers and fathers who say seeing their baby for the first time transforms their life. As beautiful as it is to create a life and addition to the family, the American Psychology Association states that "1 in [every] 7 women in the Untied States will suffer from a mood disorder known as Postpartum Depression (PPD)."
Post pregnancy depression, or PPD, is a type of depression brought on by childbirth. Unlike the "baby blues" which lasts only a few weeks and causes a mother to feel, as apa.com puts it, "stressed, sad, anxious, lonely, tired or weepy," PPD can last several months, and can cause a mother to feel hopeless, disinterested in her child, and in severe cases, make her want to kill her baby or herself. PPD can, and does, affect women of every race and social class, and is not partial to unwed mothers.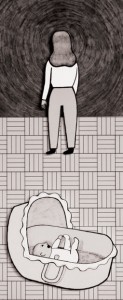 For a list of common PPD symptoms click here.
Many cases of PPD goes untreated because its symptoms vary from woman to woman. It can look like depression to one individual, anxiety in another, and compulsion in someone else. Notwithstanding, PPD is often overlooked because of shame. Women are constantly told how amazing it is to have a child, and it is!, but that isn't the case for every mother. NPR's Know The Signs: For Some, Post-Pregnancy Is Anything But Magical, follows Paige's emotional and mental decline after the birth of her son. Of her darkest day, Paige says,
And I looked at the bus and I had this impulse out of nowhere to throw myself and Max in front of the bus and just end it. … As the bus passed, I remember looking at my reflection in the windows of the bus and the faces looking back at me, but seeing my face, and being like, 'Who is that person?' … I had to do something to save myself and to save my son.
Paige got the help she needed to live a full life not only as a mother but as an individual. Her experience is a devastating one, but her story should comfort you if you're suffering from PPD. Paige survived her PPD and so can you.
If you find yourself suffering from PPD symptoms, it's imperative that you seek help. Hypnotherapy has a successful track record for easing the minds of mothers caught in a mental and physical battle with their PPD. Hypnosis can teach you to focus on what is real. It will also help you to get back to, or establish, a better peace of mind. From that new way of thinking you can approach your life and relationship with your child from a healthy mind.