Children and young teens stumble upon porn accidentally or through curiosity. Expastors.com states that by the time a child is 11 years old, they would have already been exposed to porn. Some children are embarrassed by what they see and never venture beyond that moment, creating a type of trauma, while others are intrigued by the sexual acts displayed before them and begin to explore the very animated, fantastical, and unrealistic world of pornography.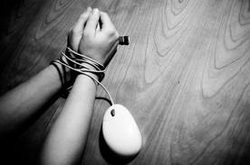 For individuals who watch porn, the characters and their actions are enticing but what children and adults don't understand about pornography is that it's not real. The milkman, pizza delivery guy, and the naughty maid aren't real people. These characters are just that, characters. They don't require courting, games of twenty-one questions, or dates; but in the real world, knowing intimate details about your spouses life is sexier than the skimpiest lingerie.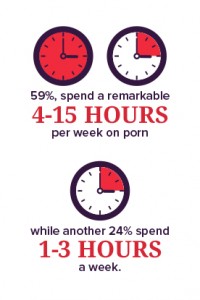 This is a chart taken from Reddit: link here.
Whether indulging for hours or for minutes, a long-standing relationship with pornography begins to desensitize the viewer. What starts as an occupation of your free time spans into engulfing other important hours of your life. Basic guy and girl porn no longer meets the individuals need for thrilling pleasure. Wanting raunchier and more explicit images sends porn addicts digging through dirtier and dirtier pornos until they're able to once again get off. This is because, like any other addiction, the addicted individual needs to  increase their intake in order to continually satiate. By nature, addicts are always looking for a greater high. 
The addiction is not in that the individual watches porn, but that they can't go without it. Askmen.com states that, "Porn addiction functions like other addictions, in that people seek out porn (like they would drugs) because they have developed a psychological craving, not because of enjoyment." Their need to increase the vulgarity is supported by the amount of time spent watching, researching, and imitating porn. As a result, there are addicts who have an inability to connect with tangible people. Their hopes, preferences, and desires are entangled in the distorted ideals created by the porn industry.
Humans were designed for connection. Anything that causes you to live with a hunger that forces you into isolation, is something you need to give up. I want to help you regain control of your life again. Being weaned off of pornography won't be easy, but it is necessary. We will establish healthy alternatives that are productive and reality based.   Reinforcing these healthy alternatives will give you the control to make better choices when temptation arises. Coaching will assist you in how to deal with moments of weakness, transitioning, and life post addiction.