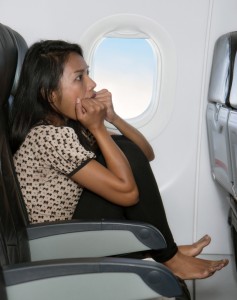 Along with death and public speaking, the fear of flying is the most common phobia in America. The only thing is a slim portion of people are ever called upon to speak publicly and you won't be around for your own death, but most people need to fly at least a few times in their lives.
The fear of flying is particularly tricky in that it manifests in many different ways (from mild anxiety to outright panic attack); it can come on at any point in a person's life; or it can wax and wane in a person's life depending on other coexisting factors.
The first thing you need to know about any phobia is that it's not a rational problem, but an emotional one. Informing a person with a fear of flying that it's significantly more likely to die by lightning or in a car than on an airplane does not register with them in any effective way.
The phobia largely stems from a lack of control wrought upon the sufferer with such facts as you being squeezed into a tin can that defies nature and is at the behest of turbulent winds, two strangers in a cockpit, and no technological malfunction. Yikes!
With a few sessions of hypnosis, however, the phobia sufferer is able to channel those paranoid thoughts into a relaxing calm. Those thoughts will not impede the duration of the flight, but rather drift away into deep breathing, meditation, sleep or peaceful thinking.
Call my office today to learn more about how hypnosis can help!