When I think of the 4th of July weekend coming up, I think of hotdogs, burgers, grills, the sun out, frozen fruit drinks and most importantly, some very needed family time.
Needless to say, I know there are people out there that fear this time of year and many other holidays like this centered around family gatherings and food (Christmas, Thanksgiving, New Years, Birthdays, and the like). They fear the idea of having to eat in front of family and friends. There are people tormented by the thought of having to force themselves to eat to appear healthy and normal on the outside.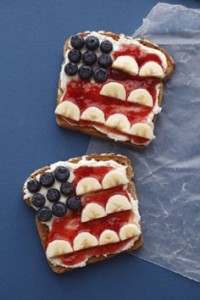 The truth is, anorexia is hardly ever about weight. It doesn't matter if you're 80 pounds or 180 pounds, an anorexic will still feel that they are never at their perfect weight. Anorexia, bulimia, binge eating, and other related eating disorders are a form of addiction, very similar in root to gambling, alcoholism, drugs, smoking, sex, etc. – it is centered around attaining the 'high' that makes you feel good/relieved.
Young girls and boys on the onset of anorexia and bulimia purge because of how amazing it makes them feel afterwards. Fast forward a few years, it turns into a habit, an addiction no longer controllable. The troubling truth about habit is its stronghold over our lives. It's great that some of us have great habits, like waking up early in the morning and sticking to our awesome workout regimes but there are a lot of us who fight head on with daily negative habits. Sometimes we turn to our addictions to distract us from the real issue we are dealing with on the inside.
Anorexia, like all other addictions, takes your good qualities and uses them against yourself in destructive ways. It will take your amazing persistence and push you to continue to purge and starve. It will take your strong determination and use it to push to to achieve visible ribcages. It will take your unique creativity and use it to create stories to hide the real reason as to why you are "not hungry". It will take your hardworking, disciplined mindset and use it to fight for the wrong things.
I want to emphasize the power of our brains and what we can do change the way we think. Hypnosis can help you center your thoughts on what is truly important and meaningful in life. You have to realize that your body, your organs, and your actions/habits are all controlled by your brain. Your heart cannot beat and pump blood without the command of the brain. Likewise, your thoughts don't end up where they do without the command of the brain. Come see me. And I don't say this lightly. I know how real the fear is for those that battle with this every day, through every meal.
I want to wish everyone a Happy 4th of July!!